Highlights
Discover Lima historic district & Larco Museum
Explore Cusco and Sacsayhuaman ruins
Small group guided discovery of Machu Picchu
Hike Huayna Picchu or Machu Picchu Mountain
Adventure into Peru's Amazon Basin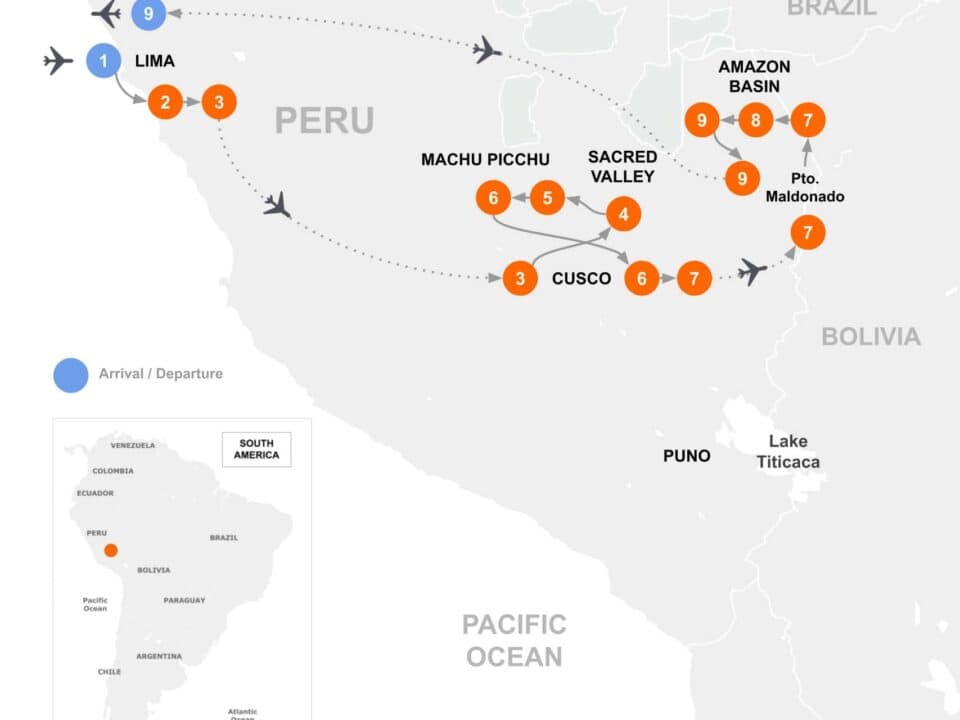 click map to expand (not to scale)
Summary
Lima
|
Welcome upon arrival and transfer to your hotel
Lima
|
City tour, Larco Museum & Water Circuit
Cusco
|
Travel to Cusco
|
City tour & Ruins at Pukare and Saqsaywaman
Cusco (Sacred Valley)
|
Visit Pisac's market and Ollantaytambo
Machu Picchu
|
Guided exploration of Machu Picchu
Cusco
|
Self guided hike to Huayna Picchu
|
Travel to Cusco
Amazon Basin
|
Travel to the Amazon Basin
|
Lodge's excursions presentation
Amazon Basin
|
Choose from several excursion options
Amazon Basin
|
Travel to Lima
Full Itinerary
Lima
|
Welcome upon arrival and transfer to your hotel
Welcome to Lima, the vibrant capital of Peru, and transfer to your hotel nestled in the enchanting neighborhood of Miraflores. Begin your journey of discovery as you traverse through a city that effortlessly blends ancient traditions with modern allure. If time permits, immerse yourself in the stunning views of the Pacific Ocean and Peru's captivating renowned gastronomy.
Lima
|
City tour, Larco Museum & Water Circuit
Today we will embark on a captivating city tour, immersing ourselves in the rich history and architectural wonders of Lima's iconic sites like the grandeur of Plaza de Armas and historic Cathedral. During the afternoon we will learn about the vibrant Inca culture at the renowned Larco Museum. The evening will unfold with a mesmerizing display of the Water Circuit followed by a glass of Pisco Sour and local petit-bouchées at a traditional Peruvian tavern.
Cusco
|
Travel to Cusco
|
City tour & Ruins at Pukare and Saqsaywaman
During the morning, we will embark on an enriching exploration of the magnificent ruins at Kenko, Tambomachay, Puka Pukara, and Saqsaywaman. These sites will offer us a glimpse into the ancient Inca civilization, showcasing their remarkable architectural prowess and cultural heritage. Later in the afternoon, we will immerse ourselves in the timeless beauty of Cusco, marveling at its awe-inspiring cathedrals and intricately crafted Inca walls.
Cusco (Sacred Valley)
|
Visit Pisac's market and Ollantaytambo
Today we will explore the Sacred Valley (9,350 ft) and experience the rich colors of its traditional towns and ruins. Our first stop after a scenic drive will be Pisac's colorful market a great opportunity to practice your bargaining skills! After lunch, we will tour the town of Ollantaytambo and visit the site of the beautiful rose-colored stone ruins where the Incas fought the Spaniards. Return to Cusco in the late afternoon.
Machu Picchu
|
Guided exploration of Machu Picchu
Early morning transfer to board the train to the awe-inspiring destination of Machu Picchu (elevation nearly 7,900 feet). This scenic trip offers great views of the mountains, river, and sometimes a glance at the awesome Condor. Upon arrival in Aguas Calientes, you will begin a guided tour of Machu Picchu. Concluding our exploration, we will return to the charming town, allowing you to unwind or shop at the local market.
Cusco
|
Self guided hike to Huayna Picchu
|
Travel to Cusco
Free morning to go back to the ruins and delve deeper into its mysteries or embark on a thrilling hike up either Huayna Picchu or Machu Picchu Mountain. As the afternoon unfolds, we shall make our return to the vibrant city of Cusco by train, traversing the scenic landscapes along the Urubamba River.
activities
:
Hike, Train, Walk
Amazon Basin
|
Travel to the Amazon Basin
|
Lodge's excursions presentation
Enjoy an early morning walk in Cusco before your flight to Puerto Maldonado. You will arrive at the lodge after a 20-minute drive and a 45-minute boat ride which offers beautiful views of exotic plants, birds, and caimans. After dinner, participate in an ecotourism lecture by a professional guide.
activities
:
Power Boat, Walk
Amazon Basin
|
Choose from several excursion options
Choose from an array of captivating excursions. Journey to Gamitana Farm, where you'll explore the Model Farm. Uncover the Brazil Nut Tree's significance and try opening one. Experience the wonders of Cocha on a canoe ride, marveling at diverse wildlife. Ascend the Canopy Walkway for breathtaking views. Navigate Lake Sandoval, home to giant river otters and vibrant birdlife or embark on a birding adventure at Cachuela clay lick
meals
:
Breakfast, Lunch, Dinner
Amazon Basin
|
Travel to Lima
Enjoy a walk around the lodge before traveling to Puerto Maldonado to board your flight to Lima or continue on an extension.
activities
:
Power Boat, Walk
end of the itinerary
Important: Daily activities description subject to change
Pricing Details
Rates shown are per person based on standard double room or cabin occupancy.
Prices in US$ and valid through December 31, 2023
Single Supplement add-on from 70% of price and up.
Credit card payments subject to 3% processing fee.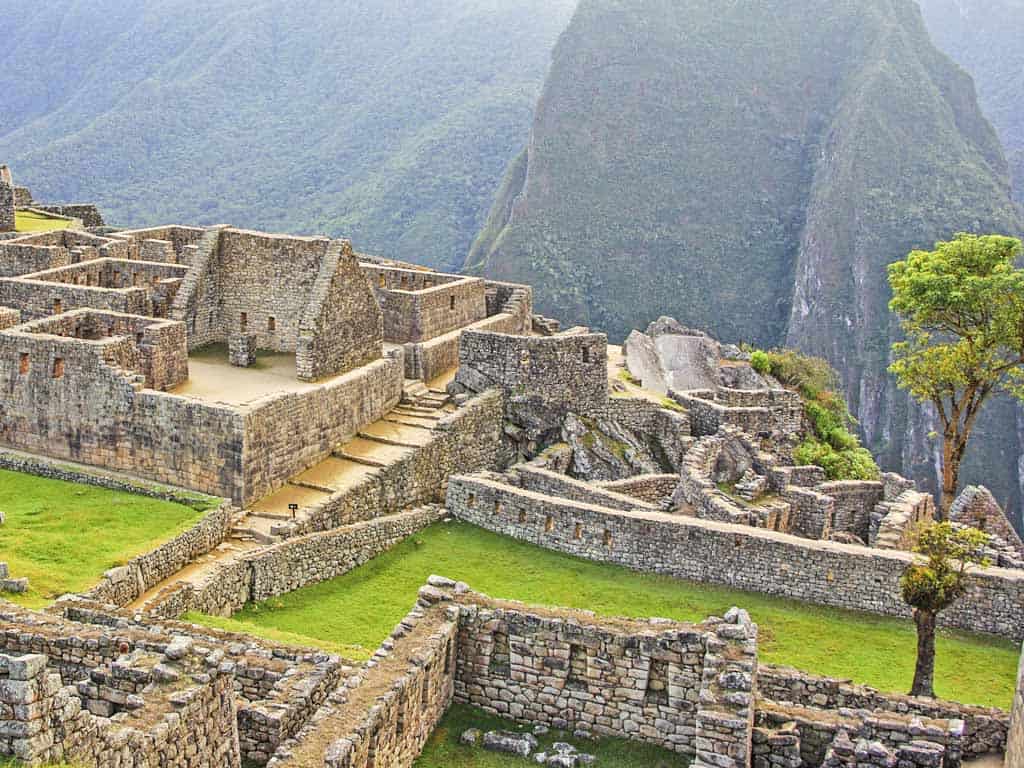 What is Included
Hotels as shown or similar
Airport transfers as shown
Professional bilingual guides
Excursions as part of a group
Train to and from Machu Picchu
Additional Budget Considerations